For Jeff Cota, a customer relations coordinator at FI$Cal, becoming a baseball umpire seemed like a natural. Like many, his love for the sport started as a kid. He became an all-star center fielder at Lincoln High School in Stockton, then played a season as a minor leaguer in the Baltimore Orioles' farm system before college.
Years later, as his son Ryan started playing in Little League in the mid-1990s, Jeff witnessed something he didn't like – a lot of hard feelings over blatantly poor calls by the umpires, who were volunteers.
He decided he wanted to do something about it and started calling balls and strikes himself.
"I did it to put the focus on the game and on kids having fun," he says. "I wanted the kids to not have any attention on things going wrong in the game – the wrong call made at home plate, or calling a strike on a wide ball – all the things people complain about."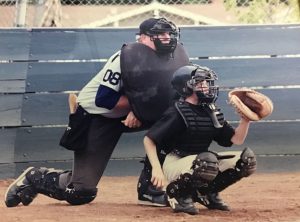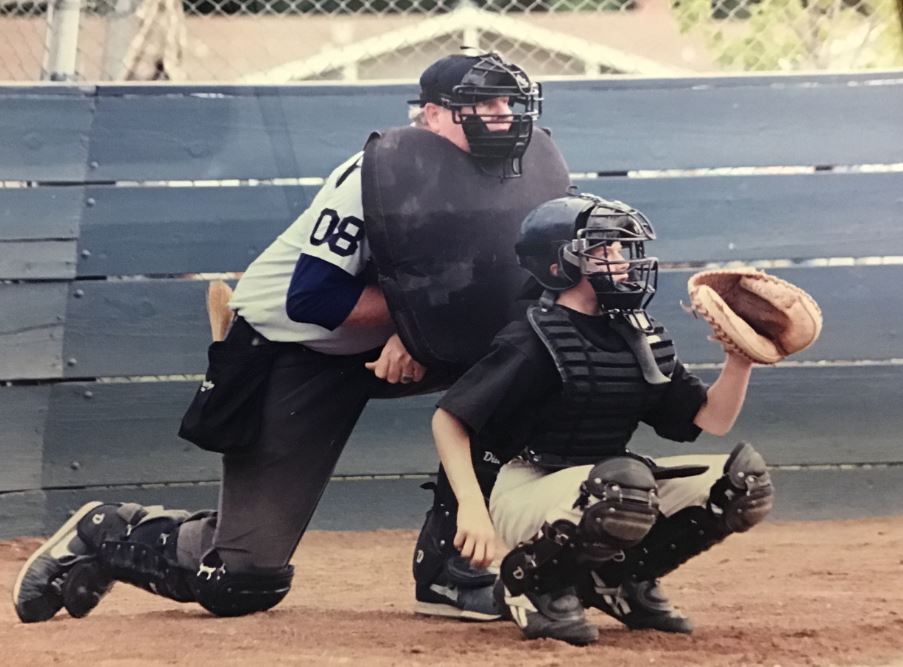 Jeff makes calls behind the plate during a Little league game as son Ryan plays catcher.
Perhaps not surprising to people who have seen Little League games, Jeff recalls some of the worst abuse coming not from players but from parents.
Jeff three times ended up calling games due to verbal abuse – meaning he stopped the game and the team with the abusive parents lost by forfeit.
Jeff went on to become umpire-in-chief of the Whitney Little League in Carmichael. All in all, Jeff spent hundreds of hours every spring, umpiring three or four games a week, then supervising newer umpires. He even met Doug Harvey, a Hall of Fame major league umpire. Jeff enjoys the memory of Harvey telling some "incredibly interesting" stories about his National League umpiring days, including more than a few skirmishes with Los Angeles Dodgers manager Tommy Lasorda.
Like his move into umpiring, Jeff's entry a year ago into FI$Cal also came as a natural progression. He had worked for years as a management consultant, advising corporate clients such as Allstate Insurance and health-care companies.
Now Jeff works for FI$Cal Change Management Office and works with departments such as Consumer Affairs, Food and Agriculture, Conservation, and the Military Department.
The umpiring gig? That stopped a couple years ago – long after his son stepped on a Little League field for the final time. Now Jeff enjoys being a grandparent to his first grandson – a likely future Little Leaguer himself.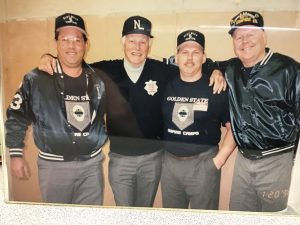 Jeff, right, poses with other umpires, including Major League Hall of Famer Doug Harvey, second from left.