The FI$Cal Learning Center (FLC) is a one-stop learning experience to help end users master the skills needed to become confident and successful FI$Cal users. The FLC includes:
Virtual Instructor-led and web-based course information and curricula
Job Aids providing step-by-step instructions for completing FI$Cal transactions
Video how-to sessions to help answer commonly asked questions
User playlists, events calendar, training history, course evaluations and more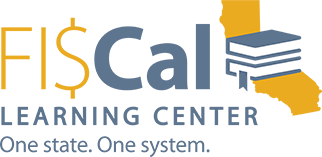 Log into FI$Cal Learning Center »
The FLC is limited to authorized users. Please log in using your FI$Cal credentials.
We look forward to your participation in the FLC. If you have questions, please send an email to FiscalLearningCenter@fiscal.ca.gov.
University of FI$Cal Certificates
Please note: The Bronze and Silver Certification programs available as part of the University of FI$Cal will not be part of the initial FLC release. These programs are being reevaluated and updated to reflect our new learning approach.
Additional Training Resources
Department of Finance Accounting Training Resources
Department of Finance Budget Training Resources
TR 6 Learning Lab Maintenance Schedule